Planting seeds of knowledge
If there's one thing that the teachers and students show up to do on time it's to take care of the garden. After 5 o'clock prayers, the dedicated group can be found filling their watering cans at the well. But despite their tireless efforts, their seedlings don't always grow into the hearty crops they need to supplement their food bowls.
The garden master had asked me to help improve the garden on a few occasions, to which I embarrassingly had to tell him I didn't much about. Worst Peace Corps volunteer ever!
So, I decided to invite my new site mates who just so happen to be agriculture volunteers to help me. I also asked the four grade 10 students who attended Camp GLOW (Girls and Guys Leading Our World) if they would be interested in teaching the gardening skills they learned there. Luckily, everyone was on board and my school-garden training was born despite my lack of a green thumb!
We took the divide-and-conquer approach and split up to lead 4 stations: organic pesticides, natural fertilizers, compost piles and double digging. The lovely ag volunteers and GLOW students taught the hands-on sessions to 4 teachers and 20 students at the primary school.
Everyone showed up on a Saturday morning (like I said … dedication) and participated fully. I was proud to show off the hard-working teachers and students at my school to my fellow volunteers. And I was even prouder to see the leaders that the grade 10 students have become. All around, the training was a huge success (and I didn't have to do a thing!).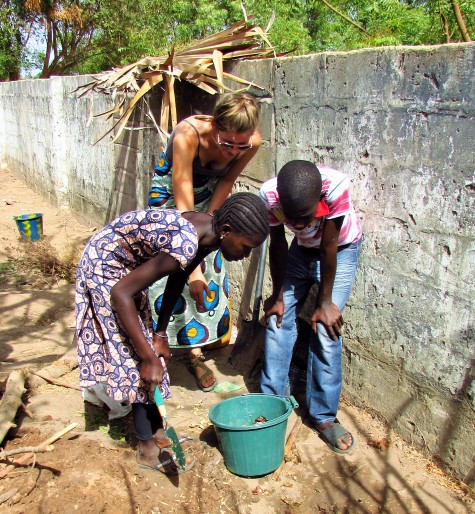 How To: Start a Compost Pit
1. Dig a pit in a shady place.
2. Add a 10 cm layer of dry organic material (millet chaff, peanut shells, sawdust…).
3. Add a 5-10 cm layer of green stuff / manure / kitchen waste.
4. Add a 5-10 cm layer of soil and ash.
5. Repeat steps 2-4 until the pile is at least 1 m3.
6. Water.
7. Cover with straw or palm frawns.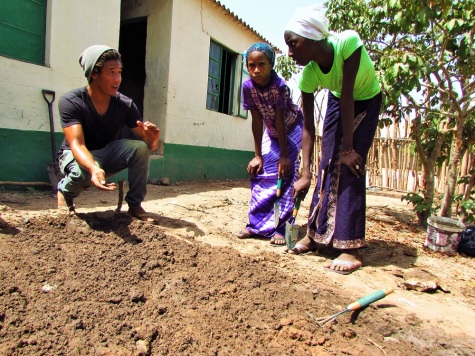 How To: Double Dig
Double digging is an easy way to improve soil and allow roots to grow deeper.
1. Remove about 10 inches of top soil and set it aside next to your bed.
2. Soak the bed thoroughly. Wait until the next day if possible.
3. Dig your bed again until you reach a reddish soil.
4. Mix in your compost (manure, dry ash, charcoal and organic material).
5. Replace the top soil and mix the layers.
How To: Make a Natural Fertilizer
This fertilizer brings out the calcium to help plants grow stronger.
1. Wash eggshells and remove the goopy layer of film.
2. Break the eggshells into small pieces.
3. Roast them until they are light brown.
4. Add the roasted eggshells to vinegar.
5. Let sit for 10 days.
6. Soak the seeds directly in the fertilizer before sowing or add a spoonful to your watering can about once per week to help crop growth.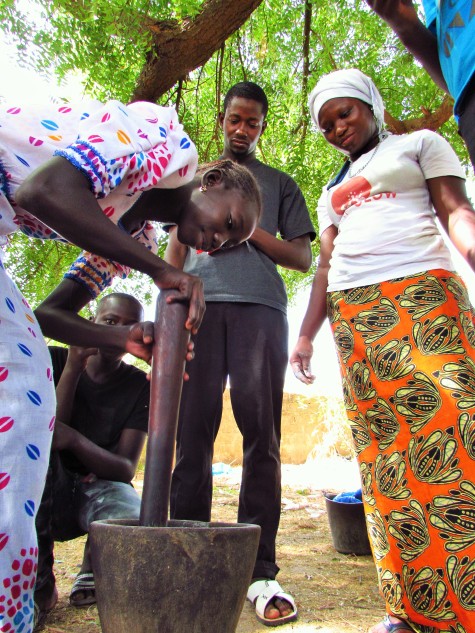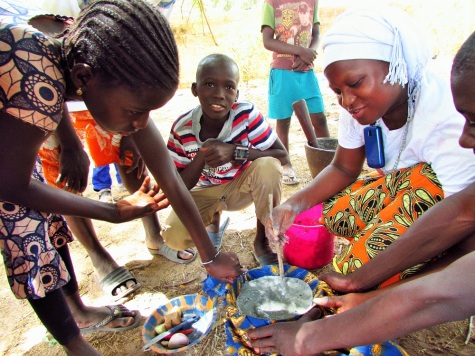 How To: Make an Organic Pesticide
This pesticide targets leaf-eating pests.
1. Chop onion and garlic.
2. Pound onion and garlic with red hot pepper.
3. Mix the ingredients with water and wood ash.
4. Strain.
5. Add small flakes of natural bar soap.
6. Stir.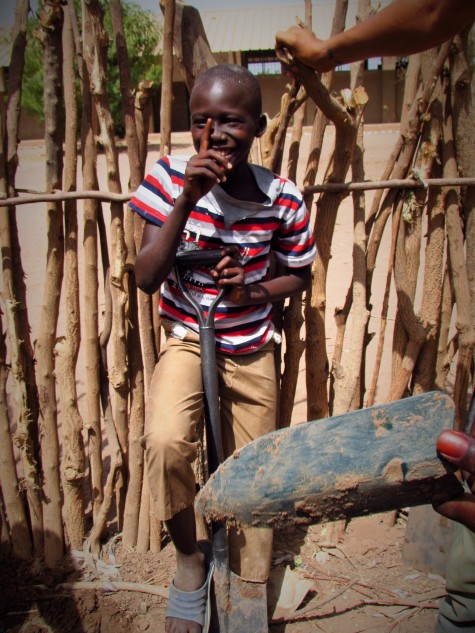 –JDF