A 'Tribe' called Terminal T
While the brutal chaos that unravels in "Lord of the Flies" is famous around the world, research suggests human nature is to respond otherwise in times of peril.
One example of this is how the country came together after the terrorist attacks of September 11, according to Sebastain Junger's new book Tribe, which cites an array of statistics that claim unity is human nature in times of hardship.
Focusing energy on patriotism and serving one another, the U.S. didn't have a single rampage shooting for the two years following 9/11 despite a steady upswing in rampage shootings in the previous decade and in the years following. And in New York City particularly, "rates of violent crime, suicide and psychiatric disturbances dropped immediately."
The book lists a myriad of other examples of this phenomenon and then goes on to suggest that it's this unity often seen in wartime that leads to soldiers later missing the war.
"Adversity often leads people to depend more on one another, and that closeness can produce a kind of nostalgia for the hard times,"says the book subtitled "On Homecoming and Belonging," which I ironically finished reading while I am starting to prepare for a homecoming of my own.
While I certainly don't live in a warzone, serving in one of the world's poorest and most oppressive countries has been, at times, turbulent. The emotional rollercoaster of ups and downs can be difficult to navigate, and even more difficult to explain to others. But at any given point in my service, there were a handful of people who knew exactly what I was going through in that moment – my group.
Dubbed "Terminal T" due to us getting separated which in turn led to a slew of other mishaps in the airport at the get-go, it's no wonder our group often feels like a hodge-podge of strong personalities rather than a cohesive unit. Other groups in-country don't particularly like us, and at times we haven't particularly liked each other. But I've noticed that despite it all, if an outsider is caught saying something about one of us, we are the first to rise to the defense.Away from our typical support systems, the cohort I came in with quickly became "family" – and that meant setting aside our differences to support one another through this difficult journey.
"That sense of solidarity is at the core of what it means to be human," Tribe says.
Terminal T and I just wrapped up our Close of Service Conference, where we had time to reflect with each other about our time here, what it has meant and what it will be like to move forward.
It has been challenging to finish my service here without my closest friend from my group who had to return home early in December, but the conference reminded me of the unique bonds I have with the rest of Terminal T because, simply put, we are all in this together.
When I joined the Peace Corps, I didn't give much consideration to the role other volunteers would play in my service, a role which has been exacerbated due to the size of the country we are serving. But now it is hard to imagine what the past two years would have been like without them. We have collaborated on projects, popped botfly worms out from each other's skin and called each other crying and complaining in the dead of night.
It's strange to imagine that this weeklong conference is the last time we will all be together.
The highlight of the week was putting our crazy personalities on display in a murder mystery dinner party. Our friend in the group after us carefully crafted our characters for the improvised drama which became quite the riot. (Although this means nothing to you, here's a few pictures because they are just too good not to post).
After sessions about our closing paperwork, tips for job searching and advice for readjustment, Peace Corps staff joined us to celebrate "Terminal T" with a closing banquet, where Tim Solfest wrapped it up far better than I can. I'll end with his "love letter to Terminal T" here.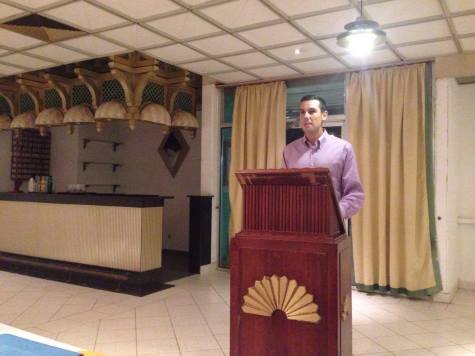 By Tim Solfest:
Here we are, Terminal T, at the end of our long anticipated final Peace Corps training.  We've spent the week re-familiarizing ourselves with all the paperwork that living in America entails.  We've spent days discussing what it is we've been doing for the past two years, what comes next, and how we are going to get there.  And we've spent evenings in true Terminal T style, putting our individual personalities on stage as we got to the bottom of why Lord Henry is dead and who is Vladimir.  So here we sit, ready to take on America with our non-transferable language skills, non-competitive eligibility, elevator pitches, and liver bombs.
But until that time, we have anywhere from 20 days to 13 months to sever our metaphorical Peace Corps ponytails and adapt to our professional American dos.  Soon, many of us will go back and be reminded of who we were before we left and we'll try to figure out who it is we've become.  We'll spend these next weeks and months trying to put two years of our lives onto sheets of paper and 30 second introduction speeches.  Trying to convert confidence gained and humility realized into bullet points on a resume. And trying to condense the connections we've made with our Gambian families and friends into words others will hear before they lose interest.  And while we try to sort this all out, we'll be spending our remaining time saying goodbye.  Goodbye to our fathers, our mothers, our sisters, brothers, friends, co-workers, teachers, schools, villages.  Goodbye to a country that prefers to spend its time on the hello.  Goodbye to parts of ourselves that will always be here only.  Goodbye to Peace Corps.  And with that, Terminal T.
As many are aware, this dinner is the last time that we are together as Terminal T.  Initially 19 strangers, these two years have turned us into 16 PCVs with strong investments in each others' lives.  Starting in philly, it was apparent our group was unique.  With the awkward introduction of staging, the anxious wait in New York, and then all that was the Brussels airport, it was clear that what we were about to go through was no typical "American experience."
From the moment we entered training village, we've shared more intimate details about the size, consistency, and sensation of our bowel movements than I would have previously thought possible.  I've watched as each and every member has grown and matured in ways that I would never have imagined.  Every person in this room has dealt with situations both here and back home that would more than have justified ETing, but we're all still here.  Family members have died, close friends have fallen sick, people have been separated from their loved ones, and life in America has moved on.  Through this all, I've seen every member of Terminal T rededicate themselves to the service of others that has brought us to this conference today.
Members of this group have learned to bike, care for pets, and text for the first time.  4 of us have found love within our own group, and that doesn't even include Scout and I.  One has even recently announced his engagement.  We've brought our American families and friends over and into our Gambian lives.  We've made impacts we never imagined and those we never will see.  Although these relationships have had ups and downs parallel to those projected on our emotional chart, we've stayed here for each other.
And we will continue to, though in a different way.  We are extending.  We are leaving.  We are moving sites, countries, and states.  We are continuing school and finding jobs.  And we are separating from each other.  We will stay in contact and lose touch.  And we will always understand this part of each other's lives a little better than most.
And this all begins when this dinner ends, when we board our planes, and pass once more, by Terminal T.